MCRs 1 and 2
MCR 1 was built by the joint Marconi-EMI company and delivered to the BBC just in time to televise the Coronation Procession of King George VI in May 1937. MCR 2 was identical to MCR 1 and was delivered in the summer of 1938. The MCRs could handle three cameras. Initially they were standard Emitrons, but were later supplemented by Super Emitrons, which performed much better than the standard ones in low light. The MCRs were built on the chassis of an AEC Regal single decker bus.
MCRs 4 and 5
After the Second World War, the joint company Marconi-EMI ended. The BBC ordered two 3-camera MCRs from EMI. The cameras were equipped with CPS tubes, had electronic viewfinders and a 3 lens turret. MCR 4 was delivered in time to be used on the 1948 Olympics. The equipment was housed in a closed trailer unit pulled by a Scammell tractor. MCR 5 apparently never saw service as an OB Unit . It was used to provide facilities for the BBC Television Theatre. The CPS Emitron was not a popular camera for OBs and the cameras from MCR 4 went to equip studio G at Lime Grove.
MCRs 3 and 6
Built by PYE TVT, these three-camera units  were  of a similar design to MCRs 4 and 5.
The trailer unit had facilities for 3 PYE Mk 1 Photicon cameras. MCR 3 was delivered early in 1949. MCR 6 was delivered in 1950 just in time to be used for that year's Boat Race coverage in April.  MCR 3 was kept in service only until  September 1950. MCR 6 was used for longer. It was  resurrected in 1953 to cover fixtures during the week of the Coronation as all the other available units were used to cover that great event.
MCRs 11 and 12
These units were supplied to the BBC by Pye TVT. They were identical in design to MCRs 3 and 6 although these latest units were each equipped with 3 Pye Mk III 3 inch image orthicon cameras. MCR 11 was due to be delivered in March 1951, while MCR 12 was taken straight to Paris from Pye's Cambridge factory in July 1952, to cover two weeks of BBC programmes from the French capital. Both units worked until the early sixties. MCR 11 was based in Glasgow and MCR 12 in Bristol.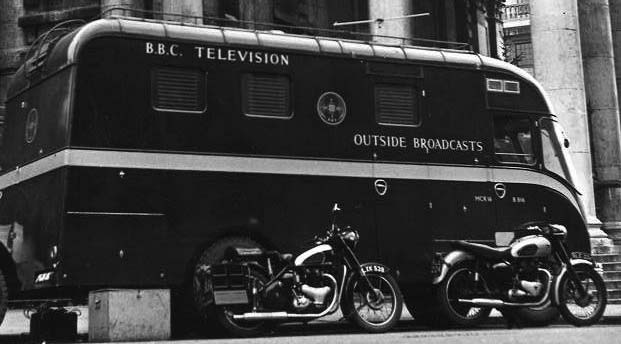 MCRs 13, 14, 15 and 16
The BBC placed an order for these four MCRs for delivery in 1954. For the next four decades the BBC adopted rigid coach built units for its Mobile Control Rooms (apart from Central Control Units). MCRs 13 to 16 were based on a Bedford Chassis with bodywork by Marshalls of Cambridge. The units were designed to take up to 4 Marconi Mk III 4 1/2 inch image orthicon cameras though, in the 1960 report, only MCR 13 belonging to BBC North regularily carried 4 cameras. The others were equipped with three. MCR's 13, 15 and 16 were used to cover Sir Winston Churchill's Funeral. This was the biggest OB the BBC staged using monochrome units. With MCR 13 based in Manchester, the other three units were assigned to London until the new batch of Pye units began to be delivered in the early nineteen sixties. All four units saw twelve years service and were immortalised in the 'Dinky' model and 'Eagle Comic' cutaway drawing. MCRs 15 and 16, at the end of their time with the BBC, were based in Birmingham and then in the early 1970s, sold to the Greek television service.
MCR 17
In the mid 1950s PYE TVT sold one of their standard OB vans equipped with 3 PYE Mk III cameras to the BBC. PYE sold these units throughout the world and to the new ITV companies. The control room was built on a five ton Morris chassis with coachwork by Papworth Industries. Still in it's standard PYE blue and white livery, it was known by BBC OBs as 'the ice cream van'. It was used in 1962 for the 39 week run of Barry Bucknell's house renovation. The series of live weekly programmes followed the progress as Barry Bucknell renovated a terraced house in Ealing. Soon afterwards, the equipment was derigged and used in one of the Lime Grove studios. The van was then used by the BBC Concert Orchestra to transport their instruments.
MCR 18
This 2-camera unit was based in Belfast in the 1950s and into the 1960s. It was equipped with 2 Marconi Mk IV cameras. It completed its BBC service in Cardiff.
MCR2 19 to 28
In the early 1960s, PYE TVT received an order for ten 3-camera (although they could handle 4) monochrome MCRs. The BBC made specific requirements for the cameras and PYE obliged by designing the MK VI.  This camera was only sold to the BBC and PYE never managed to recover their development costs. These units were the backbone of the BBC Outside Broadcast fleet throughout the 1960's until colour units took over. MCR s 19, 21, 22, 23 and 26 were based in London. MCR 20 in Cardiff, MCR 27 in Glasgow and MCR 28 in Bristol. In 1967, MCRs 19 and 22 were transferred to Manchester becoming North 1 and North 2. 
Several of these vehicles were subsequently re-fitted as 2-channel colour units. (MCRs 19, 21 and 23)